Do you intend to venture into the world of business? Are you a startup looking for extra help or resources? Or, maybe you have recently started a small business you need to grow and excel? Then look no further!  With around 50% of all small business startups failing before celebrating their 5th birthday, any kind of help whether with tips, tools or strategies is a must and we at Food Entrepreneurs have you covered. If your business falls under the early stage category, then listen carefully and take note ✍️

Great app startup ideas bring a revolution to change how we live and how fast-evolving technology can be applied to the industry. There have been a number of successful food app startups in the last century. Just look London-based Deliveroo, or UberEats, companies born only a few years ago but already feeding people in multiple cities across the world. Their idea may be simple but brings delicious food from local restaurants directly to everyone's doorstep and have since counted their successes for it.
But what about apps for the startups themselves? How can we utilize apps to optimize growth? Here are the 6 best mobile apps for small business startups that can help you run and grow a good, strong business, especially during the pandemic.
Communication:
Slack ️
Communicating effectively is necessary for the daily operations of small businesses, especially with Covid and working from home. It doesn't only help improve productivity within your company but also ensures that things run smoothly and moral is kept up as much as possible.
Pick up the "slack" with the
Slack messaging app
. It´s easy to use and each conversation can be organized into different channels defined by the user. You can make groups for different segments of your company like marketing or finance or have a  general chatroom for the whole team. You can even name the channels yourselves. Whether you want to split up the channels by project team, department, or leadership is up to you.
Not only does this app allow for instant messaging and direct contact, it also integrates with other apps such as Twitter and MailChimp to keep your conversations all in one place and to not lose focus. You can connect these other platforms in whichever channel you like. For example, open a channel with your marketing director and assign Twitter notifications to appear there so both of you can see when your company receives a retweet, mention or direct message.
Simple and easy!!
(Source: Slack)
Easy website design:
SquareSpace ✔️
If your focus is on building an informative and content powered website, then SqaureSpace is for you! Design and content management functionality are a priority with this platform with
Squarespace
offering an easy to use way to create a good looking website for your users.
Its templates offer a vast range of different segments including different pages for contacts, images, blogs and more. Its CMS is highly intuitive and easy to use, you can even edit your photos and play around with different blogging tools.
The only downside with SquareSpace is that it takes a more 'walled garden' approach to its website building abilities.
Meaning? It hones a more 'closed-off' system and integrating third-party apps is not always straightforward, meaning you wont always have all the access you want or need to your website.Despite this, most users find SquareSpace a really good option for website building for creating a content-driven site perfect for first time users of any website creation platforms, allowing to build a professional looking site in minimal time.
easy to use

templates are well designed

easy to tweak color systems and typefaces 

hardly any website maintenance required 
(Source: SquareSpace) 
Email marketing:
Get response

There may be a slight competition brewing around the perks of both Mailchimp and Get Response, and although Mailchimp has years on its side
Getresponse has evolved into more of an 'all-in-one' marketing solution, and has taken over the leading email marketing tool in more ways than one. For example? 
webinars

built-in e-commerce features

conversion funnels
Getresponse allows you to manage email automation via a 'flowchart'-style journey creator which is very sophisticated stuff for those of you who didn´t know in the world of email marketing – and as you can see from the screenshot below its also reasonably straightforward to understand and implement.
You can map out a set of rules for Getresponse to follow based on user actions. For example, if a user clicks a link on a particular email, they are taken down one path; if they don't, they go down another.
(Source: Get response)
Finance:
Mint
Personal finance apps help make the concept of budgeting, organizing and saving easier for everyone in a company.An essential app for any small or continuously growing business is
Mint
which helps bring financial management to an entrepreneurs' fingertips. This app combines all financial accounts into one spot to provide a fast and efficient overview for small business owners.Each transaction made can be categorized and tracked so entrepreneurs can see their expenses, revenue and spending with through a simple visual chart, no complications needed.
Tip? The bill pay reminder feature is an added bonus for on-the-go (and often forgetful) entrepreneurs.. 
(Source: Mint.) 
Time management: RescueTime
Time is your most valuable asset, did you know? As an entrepreneurs time management is of the upmost importance.
RescueTime automatically tracks the time you've spent on applications and websites each day and sends you some much needed detailed reports based on your activity through dashboards, which are easy to understand and download, all in all giving you an accurate idea of how you spent your day.
Did you know? You can even set alerts to notify you when you've spent a certain amount of time on one activity, like social networking or reading the news, which allows you to more efficiently spend your day and block distracting websites or tasks that arent rewarding. You can download it for Mac, PC and Android.
(Source: RescueTime.)
Organization: Trello
Stay on top of all of your errands and work tasks with this top organization app.
Trello is an easy-to-use project management app that tracks your team's workflow on the daily. Each card you create on the Trello board represents an assignment or task you need to complete within a specific time frame. You can add members, comments, attachments, checklists, due dates, as well as labels and stickers to ensure the cards are as descriptive as possible.
If you change a card, Trello notifies each member attached to it via email and on mobile devices.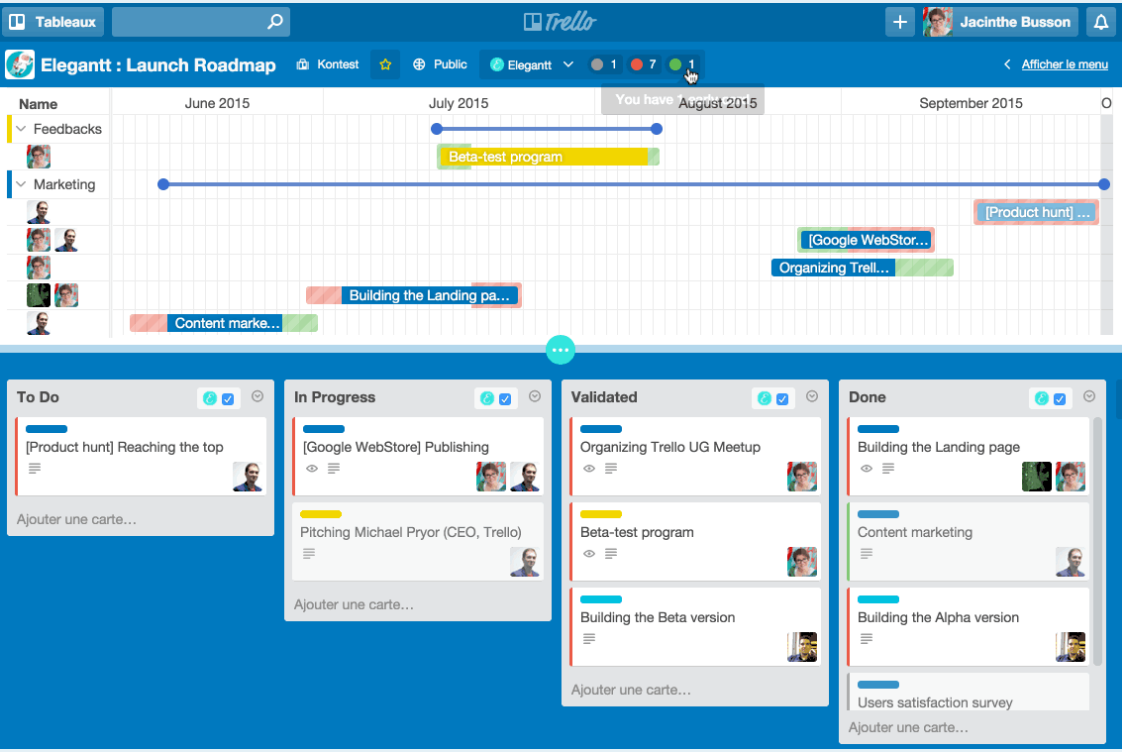 (Source: Trello.)