According to a recent market study report on the dairy alternatives market, the dairy-free space is expected to grow at a CAGR of 11.2% from 2020 to 2027 and reach a whopping $44.9 billion by the end of 2027.
The plant-based dairy ecosystem has been growing rapidly on the back of covid, as well as on other key issues such as the growing number of health concerned consumers looking for more ethical animal-free food choices. There has been a rising awareness and consumer concern surrounding the animal meat and dairy industry and with discussions being raised, alternative startups have had the chance to swoop in and open up a number of opportunities for their plant-based options including cheese, milk, butter, cream and ice-cream, which offer both high nutritional value and environmental sustainability.
The COVID-19 pandemic is not only re-shaping consumer behavior but also pricing, launch plans and stock availability. With medical studies indicating that COVID-19 has an often dangerous impact on people with underlying health conditions the food industry has faced unprecedented demand from manufacturers as well as consumers regarding products offering added health benefits including plant-based milk, cheese, and yogurts. Moreover, dairy alternatives require less dependance on human labor, land and water resources and are not prone to overwhelming diseases encountered at animal meat factories.
With a shift towards healthier consumption patterns, the dairy-free industry has also been driving interest from entrepreneurs and investors alike, and the amounts generated by these startups in corporate partnerships and funding is growing year on year. In a big year for vegan startups lets have a look at some of the names generating interest:
Pouring investment into dairy-free Milk
White gold: first there was almond milk, and then oat milk, and then pea milk…whats next? Its seems like every other day a new kind of alternative milk product rears its head. With a steady rise in vegan diets, it seems as though the dairy-free milk segment is leading the plant-based race as vegan milk substitutes rake in over $2 billion and now account for more than 40% of the plant-based market.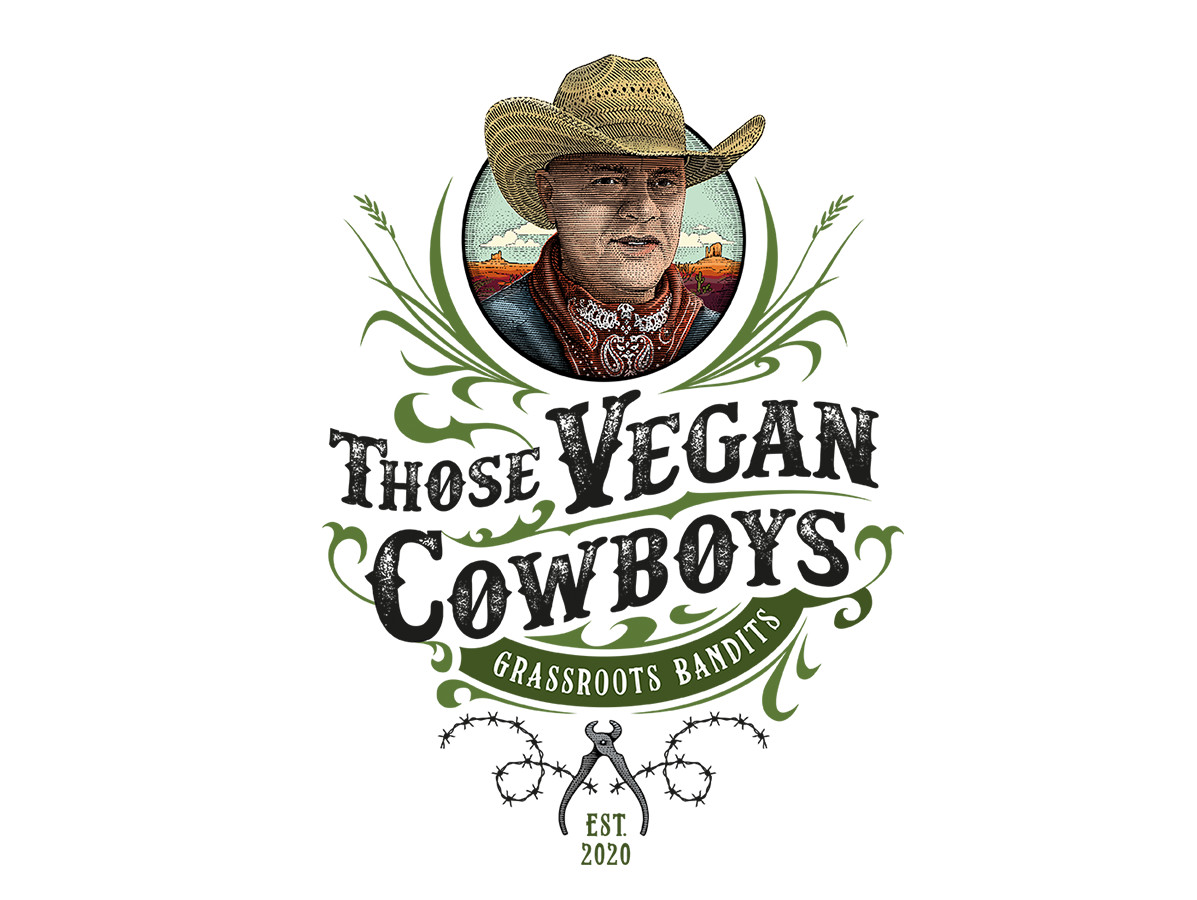 Meet the bandits of the alt dairy industry: Those Vegan Cowboys is the newly founded alternative dairy startup created by the founders of plant-based meat brand The Vegetarian Butcher, they have just started a a record-breaking global "bounty hunt" for a fungal strain that can develop real milk proteins without cows. The reward for this ethical-made milk offering is being set at a whopping EUR 2.5 million with the startup planning to use it to create classic cheeses and traditional dairy products with the same taste and texture as the real thing, without the animal or environmental implications.
They first launched their animal-free offering in late September of this year, on a mission to accelerate the development of fermentation-based dairy alternatives, much like their popular startup predecessors Perfect Day,  who is also creating anti-conventional dairy products.
Those Vegan Cowboys want to create a fungal strain that could turn grass into real milk offering not only a positive impact for the environment but for the whole community too, with dairy farmers remaining a vital part of the new improved production and supply chain. Its the next logical (and sustainable) step in modernizing the supply chain.
Driving innovations into new Cheese startups
With the spike in consumer interest in plant-based cheese startups rising since covid, the "cheesy" dairy-free space is honing in on cashews, legumes, pumpkin and other ingredients to create new products. However, many vegan cheese startups find themselves faced with the same issue: many nut and vegetable cheeses are never able to achieve the  exact flavour, texture or meltability as the "real" thing. Germany´s Legendairy Foods craft cellular-based clean dairy and admitted that they found it rather difficult when developing their "like the real thing" first dairy-free mottzerella.
Legendairy ferments microorganisms into cheeses with the same process used for making insulin. They mix the microorganisms and sugar together and then ferment them into milk proteins. With plans to integrate plant-based ingredients into its products they have already created prototypes of mozzarella and ricotta.

Change Foods is the new lactose-free kid on the scene – adding to the growing list of companies using fermentation to recreate traditional dairy products. Based in the US this innovative startup develops a cutting-edge fermentation technique called precision fermentation, to genetically modify a range of micro-organisms and produce key functions like casein that are almost identical to compounds found in "real" dairy. The production cycle takes around a week to complete and although they are yet to launch any of their cheeses, they plan to be in the market by 2022.
For those omnivorous or flexitarians out there you may find that many of the alternatives already on the market dont really offer the same taste or texture than the traditional products you are used to. Thankfully there is a growing number of startups offering conventional-like products, mainly companies that create hybrid dairy protein and plant-based cheese. Perfect Day recently announced the release of a flora-protein based ice-cream through the independent brand Brave Robot. 
Taking the plunge into new ice-cream brands
Using microbes and science to create vegan ice-cream is new brand Brave Robot.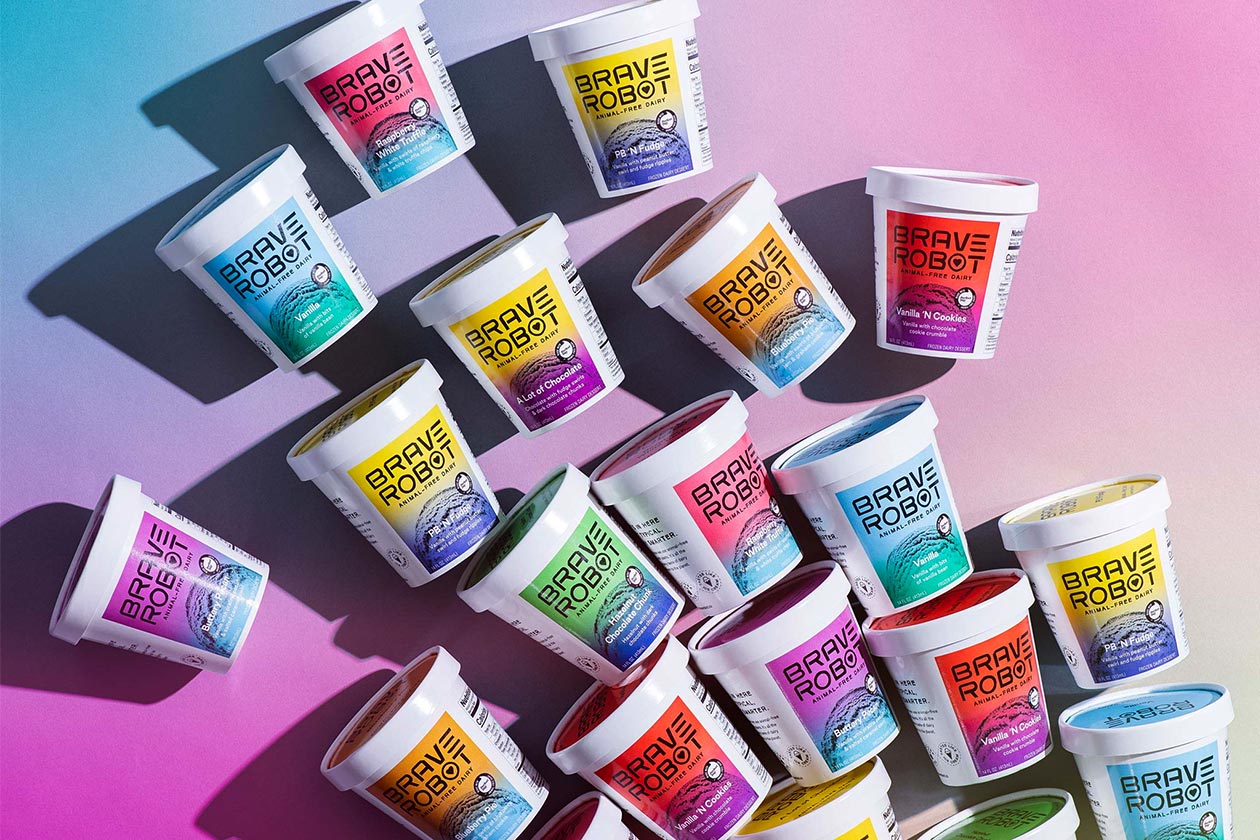 After raising more than $360 million this year in funding to transform yeast microbes into delicious dairy-like products Perfect Day co-founders Ryan Pandya and Perumal Gandhi are taking a plunge into dairy-free ice cream.
The Urgent Company is a new umbrella company that is embracing science, engineering and technology to create safe, natural and delicious consumer products which support a better planet. The new brands first product is Brave Robot ice-cream which will use Perfect Day's flora-based protein and offer availability in California before rolling out nationally (and fingers crossed internationally soon?!)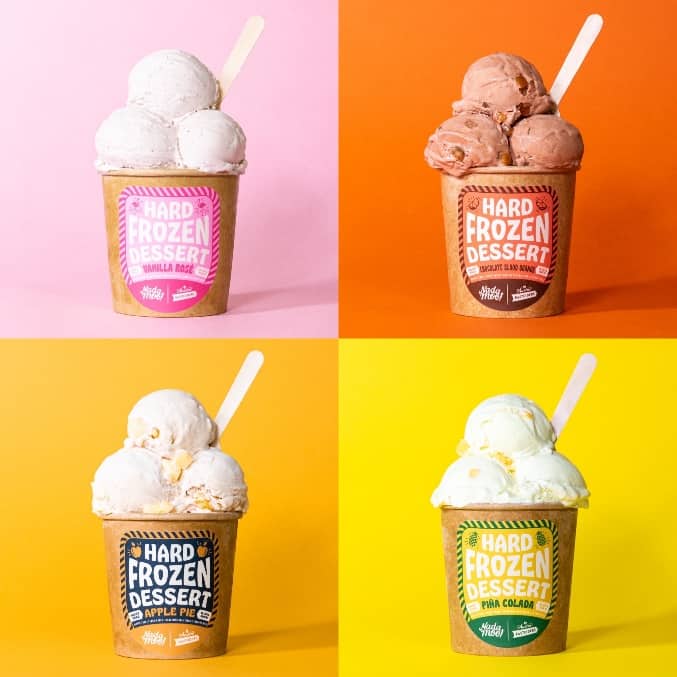 As new ice-cream brands find success in the fermentation space others are making waves accepting partnerships from big food industry characters. Austin Eastciders and NadaMoo! are coming together to offer a sweet treat with their new limited cider-infused hard frozen dessert. Beloved big brand Austin ciders have collaborated to bring locals a new small batch NadaMoo! concoction – its dairy-free, gluten-free and plant-based with real Austin Eastciders cider for a boozy bonus of 3% ABV – focusing on commitment to higher quality ingredients and better flavour.
According to Allied Market Research, the global vegan ice cream industry was estimated at $520.9 million in 2019 and is expected to reach $805.3 million by 2027. The research outlined that this may be due to a growing population and a recent boom in the health & wellness trend.
This burger startup wants in on the dairy-free market
Startups working on plant-based replicas for animal meat products are now raking in the capital as investor sentiment for the more conventional meat industry loses interest. Covid has exposed a more than vulnerable meat supply chain and with increasing numbers of outbreaks in meat-processing plants and empty supplies of beef and chicken on supermarket shelves, consumers are looking elsewhere and investors are noticing it.
Meatless burger innovator Impossible Foods recently revealed a prototype for a plant-based milk replica as part of the startups ambitious plan to completely eliminate animal protein from the food supply chain. The company is on a mission to diversify the range of available plant-based milks on the market, even demonstrating how it doesnt curdle like most when added to a hot beverage.
Impossible is also working on a range of animal-free chicken and steaks as they grow their plant-based empire, their CEO Pat Brown told MIT Technology Review that Impossible wants too "completely replace the world's most destructive technology by far, which is the use of animals, by 2035." Although it sounds like an ambitious plan, the startup has definitely done well so far converting the highly meat eating world to switch to more sustainable consumption habits.
"We will succeed or fail based on whether we build a complete technology platform that creates all the foods we get today from animals," – Impossibles CEO.
One area we won't be seeing Impossible delve into any time soon is that of cell-based meat production. CEO Pat Brown got straight to the point at The Smart Kitchen Summit last week when he said that lab-grown meat was just never going to happen. Do you think they will change their stance?
Want to get involved? We are looking for you!
Are you "dairing" to disrupt the dairy industry? Then look no further! We have just launched our latest challenge with one of the leading companies in Spain for dairy products, Pascual, who are looking for the most disrupting startups in the plant-based dairy ecosystem ready to deliver new alternative ingredients and products to help mould the future of the plant-based dairy panorama. APPLY NOW if you have a..

a sustainable boosting brand developing alternatives to traditional dairy products & offering plant-based replicas
a startup offering fermented protein products to nourish the consumer with more nutritional value
a health-conscious startup producing clean-label products with positive environmental impact
a startup creating plant-based ingredients to offer new organoleptic experiences for the consumer
Go to @https://dairyevolution.com/  

Perks of applying?
You will have the opportunity to not only work with a company that boasts more than 40 years of industry experience, but secure investment, international growth and commercial and distribution advantages. You have nothing to lose but a lot to gain! Applications only take a few minutes..