Eatable Adventures is partnering up with different countries' foodtech ecosystems to connect Spain to the world. Indeed, each month we will present a new partner, giving them a platform to describe their foodtech ecosystem and give visibility to startups and activities developed by the organization.
The company has built a global network of partnerships with incubators, accelerators, foodtech, agritech events, academia, investors, and governments.
This month we are introducing the Israeli Foodtech Ecosystem as we hear from Amir Zaidman, VP of Business Development of The Kitchen FoodTech Hub.
Describe Israel's Foodtech Ecosystem
Israel has one of the most vibrant and innovative FoodTech ecosystems, with ~300 active FoodTech startups and hundreds of millions of dollars in VC investments. This might be surprising as Israel is a very small market, and traditionally food is a local industry. However, Israel has an unparalleled entrepreneurial culture, which makes all the difference. There is a reason Israel has been named the "startup nation". Israelis are entrepreneurs by nature, always looking to do things differently and to find the next "big thing". Combine that with the fact that Israel is a geopolitical island, and has to develop self-sufficiency capabilities in all areas of agriculture and food, and you get a very fertile soil for the growth of startups in this area. FoodTech is an exceptionally appealing sector for entrepreneurs because it has an immediate effect that everyone can relate to. It has a lot of impact on the environment, our nutrition, and our health. Also, it falls well within the definition of "impact investments" also known as Doing Well by Doing Good, or as we say in The Kitchen Doing Good by Doing Food. 
As mentioned, Israel is a small market so Israeli startups are typically "born global", meaning that they look at overseas markets from day one.    
Main Actors
There are many players that create the Israeli FoodTech ecosystem. First and foremost are the startups and entrepreneurs. They are the driving force of our community and without them, the community would not exist. In addition, universities and researchers are becoming ever more active in the space, generating and commercializing new IP that has huge potential in Food. Since Israel has become such a prolific area for FoodTech innovation, we see many of the global F&B companies taking an interest, scouting, collaborating, and investing in Israeli startups. Some of the companies that are active in Israel are PepsiCo, Nestle, Coca-Cola, Danone, Mondelez, Givaudan, IFF, and many more. Israeli F&Bs such as the Strauss-Group and Tnuva are also very active. 
Incubators and accelerators are supporting new generations of FoodTech startups with their expertise and knowledge on how to build successful startups. They provide seed-stage funding, access to capital, strategic partnerships, and provide hands-on support in technology, business, and HR. Some of the names in this space are The Kitchen FoodTech Hub, EIT FAN accelerator, Fresh Start Incubator, Trendlines, and others. Many of the startups are funded by venture capital funds. Most of the capital is invested by non-Israeli VCs. A rather unique type of investor in Israel is publicly traded R&D partnerships. These are VCs that are traded on the Tel Aviv Stock Exchange (TASE) and are subject to specific regulations by the securities authority. Millennium FoodTech is an example of such a partnership, but there are others. This brings me to the capital market itself. Some FoodTech startups such as Flying Spark and Savoreat completed IPOs on TASE. Some institutional investors are becoming more active in FoodTech. 
Last but definitely not least is the Israel Innovation Authority which through a set of support programs and incubators had been very instrumental in promoting the Israeli FoodTech eco-system.
Main Opportunities
The main opportunities for the future are in the areas that have a deep impact on the global food supply chain, making our food more affordable, more sustainable, and healthier. We expect this innovation to stem from deep-tech and biotech. Israel is a strong biotech hub with world-class research. Until recently most of this research was directed at healthcare applications (pharmaceuticals etc…). Recently we see a shift towards FoodTech. We feel this is the area where Israeli FoodTech can really shine. 
Describe 5 relevant Foodtech Startups in your Ecosystem 
Aleph Farms is a world leader in cell-based meat. The company was the first in the world to create a whole cut of meat and the first to demonstrate a ribeye steak created by its technology.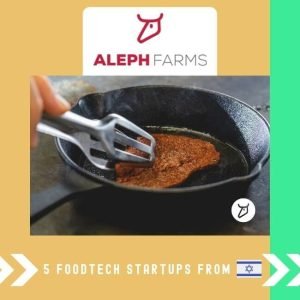 Zero Egg develops a nutritious plant-based liquid egg that tastes, looks, and functions like a real egg and can replace eggs in all uses: omelet, baked goods, mayonnaise, sauces, etc. Zero-Egg has high nutritional values, zero cholesterol, and it is safe and economical.
The company uses biotech and precision fermentation to create real dairy products (not plant-based) without cows. Imagindairy integrate AI technology with system biology to develop commercial and viable high-quality real milk proteins at affordable prices and free the dairy world from being dependent on animals.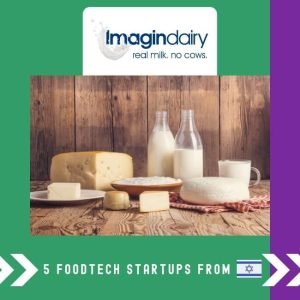 Anina creates tasty, natural, and beautiful ready-to-cook meals wrapped in pouches made from damaged vegetables. The startup aims to increase the usage of ugly produce in the food industry. The company creates a unique fusion of innovative technology, expertise in design, and knowledge in culinary arts to create disruptive food solutions based on ugly produce. We use the highest quality ingredients regardless of how they look but rather for how they taste. 
Natural fruit juices are packed with vitamins and other healthy ingredients; however, they also contain very high levels of sugar. Better Juice is developing a process for the reduction of sugar in natural fruit juices. The natural enzymatic process connects sugar molecules to one another thus turning them into dietary fibers. Nothing is added to the juice or subtracted from it, keeping it completely natural.

How do you help these startups at The Kitchen Hub?
There are two avenues in which we support the Israeli FoodTech startups. The first is the support we provide to our portfolio companies. To date, The Kitchen has invested in 22 ventures. These companies benefit from a pre-seed investment of up to $2M. They are then becoming a part of The Kitchen and leverage our support suite. They get hands-on support on their technology, business, and HR development from our dedicated team of experts in these areas. Also, they have access to our consultants in Israel and abroad. These startups enjoy the partnerships The Kitchen had created for that purpose with the largest global F&Bs including PepsiCo, Danone, Mondelez, and Givaudan. They also get access to our network of potential follow on investors from all over the world. 
The second way is our activities in building and supporting the FoodTech community. We arrange events, meetups and seminars with the global community, allowing the local startups to develop their network. We use community tools such as the MeetUp platform and LinkedIn to promote the local community to the global food and FoodTech players. The highlight of this activity is our conference FoodTech IL which is one of the leading FoodTech events in the world. It is going to be virtual this year as a part of Israel's AgriFood summit on Oct. 25th-27th. Registration is open here: https://www.agrifoodsummit.co.il/ 
Last year, Eatable Adventures hosted a webinar in collaboration with the Economic and Commercial Mission in the Israeli Embassy in Spain and the Israel Export Institute. Four of the most disruptive startups across the Israeli startup ecosystem also participated. The recording is available in the article.