Last October 9th we celebrated World Egg Day across the foodtech industry, and what better way to celebrate than to look at the evolving egg sector: specifically, plant-based. The vegan burger may have already taken off but the vegan egg revolution is arriving in its all glory as established plant-based egg brands show the industry what they´ve got, relying on replicating certain egg functions. 
(Image courtesy of JUST EGG) 
In August we reported that vegan egg was the fastest-growing segment in the plant-based category with Just Egg clocking up the most sales replacing the equivalent of a whopping 50 million eggs. Just Egg has established itself as industry leader with consumers thanks to the popularity of its plant-based liquid egg and frozen folded egg patties made from mung beans.
Last November the WATTPoultry reported that global egg consumption was rising along with consumers changing dietary needs and habits and with global pandemics such as the Avian Flu warning as well as a spike in plant-based products sweeping the food industry, producers started to look increasingly more towards egg replacement products.
In the UK, food producer Ulrick & Short reported that the latest addition to its ovaproxTM egg replacement portfolio branded ovaproxTM 5 has been improved to reproduce the qualities of hen eggs across the spectrum including in volume, texture & tenderizing as well as being clean-label and offering a 12-month shelf life, which it says will vastly improve the taste of vegan cakes and muffins. According to the Innova Database 2020 vegan NPD (new product development) is booming across the UK, doubling over the past four years. With changes in consumers eating habits and the growing adoption of flexitarian diets, this staple food has been eyed by researchers and innovators looking to produce animal free protein that is healthier and better for the planet. The global success of plant-based burgers, made famous by start-ups like Impossible Foods and Beyond Meat, has created interest in making meatless versions of other foods. 
ZERO EGG
Zero Egg is "cracking" the US market after successfully partnering with several restaurants and bakeries in Israel, where the company was founded. Next year the company plans to launch its flagship product at retail level, as well as a plant-based egg patty sometime in the future. Their offering; Egg Basics, made from a blend of plant proteins including pea, soy and chickpea, suitable for a number of applications like scrambled egg, quiches and omelets (a part of the market Just Egg hasn´t managed to crack as their mung-bean based formula isnt quite suitable for all baking applications yet.) The company is already raising investors interests, securing an undisclosed amount of funding led by Unovis Asset Management-New Crop Capital, Strauss Group-The Kitchen Hub, and Valor Siren Ventures. 
The "zero" cholesterol and animal cruelty startup has a vision to offer a more sustainable product that uses radically less of our planets resources and produces less greenhouse gas emissions than its animal alternative. The company has reported that it takes 636 gallons of water to produce a dozen chicken eggs and 93 percent less water to produce the equivalent of one dozen of their plant-based eggs.
LES MERVEILLOEUFS
Les Merveilloeufs is the all female founded startup on a mission to introduce a new vegan egg product into the market, which looks like a "real" hen's egg and even comes in its own shell. While vegan egg brands rely on replicating egg functions, most of the existing startups in the market are only able to cover a few of these functions, like Oggs for example, which is creating a liquid egg replacer for baking and Just Egg which makes liquid egg but aimed at substituting scrambled eggs or omelette. Now, Les Merveilloeufs has created a product that has the typical yellow yolk and white of a real egg and can replace ALL egg functions across the board.
Their "merveillouef" story began back in 2017, where future founders Philippine Soulères and Sheryline Thavisouk started a research project in engineering school which became Les Merveilloeufs in 2019. Now? Its a brand in STATION F's Schoolab incubator program. Speaking in the STATION F blog founder Sheryline stated: "Our initiative is very much a response to today's unsustainable egg production system. We're very conscious about the negative environmental impact caused by the rearing of laying hens, which is even worse if done in battery farming."
Although their ingredients haven´t been revealed yet Les Merveilloeufs is scheduled to hit vegan restaurants in Paris by the end of 2020, so stay tuned Parisians!!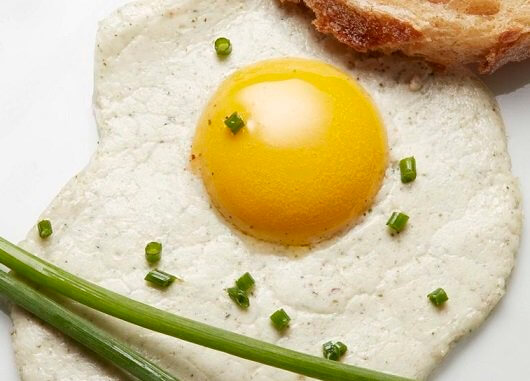 (Image courtesy of les Merveilloeufs)

OGGS
Vegan-friendly cake brand Oggs has launched a plant-based liquid egg alternative in UK supermarkets, as it aims to provide a vegan option for bakers. Now Oggs Aquafaba is now launching into the foodservice sector following its successful stint in supermarkets, thus increasing the brands accessibility to more than 950 British stores.
The one-litre format set for foodservice launch next 2021 is made from chickpea water and offers an egg-like function for baking and cooking processes. To top it all off, the cartons packaging is also offering a sustainable alternative for ethical-minded consumers as its fully compostable and certified by the Vegan Society. Humane and sustainable..what more could you want?


(Image courtesy of OGGS)

Are vegan eggs just another food innovation or hapless trend? We dont think so, the pandemic has vastly accelerated the sales of plant-based products and they dont seem to be slowing down – read more here.