We are thrilled to share our interview with Lou Cooperhouse, co-founder, president & CEO of BlueNalu. BlueNalu is a company creating cell-cultured seafood to provide consumers with great-tasting products that are healthy for people, humane for sea life, and sustainable for our planet.
Lou participated in the 4th Asia-Pacific Agri-Food Innovation Summit on November 16-18, 2021, an event gathering 800+ international delegates in person and online to tackle the challenge of scaling sustainable food production in Asia.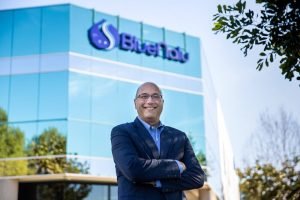 Lou Cooperhouse, CEO BlueNalu
Can you give us an overview of what BlueNalu is about and what makes it unique? 
It's our mission at BlueNalu to be the global leader in cell-cultured seafood, providing consumers with great-tasting products that are healthy for people, humane for sea life, and sustainable for our planet. We are excited for the opportunity to provide our future consumers with a wide array of healthy, safe, trusted, and delicious cell-cultured seafood products that support the biodiversity and health of our ocean. We are aligned with 10 different Sustainable Development Goals of the United Nations, with a particular focus on #14 – Life Below Water.  
Seafood consumption is at an all-time high yet our supply is increasingly challenged and vulnerable. According to the FAO, fish consumption has been outpacing global population growth by a factor of 2:1 since the 1960s, resulting in a projected gap in seafood production of 28 million metric tons needed by 2030. We need a new solution to feed the world with nutritious seafood. BlueNalu provides that new solution by developing a variety of seafood products directly from fish cells, producing just the parts that people enjoy eating.  
With a culinary-centric approach and a team of leading experts in cell biology, tissue engineering, bioprocessing, product development, quality assurance, operations, regulatory affairs, market development, and other areas, we are developing a wide array of great-tasting seafood products from a variety of species to meet consumer demand. Our cell-cultured technology will result in seafood that is 100% yield with the same health benefits and performance as conventional seafood but without environmental contaminants like mercury and microplastics while providing a consistent, predictable, and traceable supply chain year-round. 
What makes BlueNalu particularly unique in this sector is our focus on platform technology, which will enable us to build a global brand for cell-cultured seafood and a wide array of product offerings, and our initial focus on higher-value, center-of-the-plate product applications (and not ground and formed commodity-oriented products) that offer a number of benefits to our future customers and consumers.  
Congratulations on your partnership with Nomad Foods to bring your products to Europe! What do you expect from this new step? 
Our agreement with Nomad Foods is the first of its kind in Europe between a cell-cultured seafood company and a consumer-packaged goods company and represents a mutual interest in the commercialization of cell-cultured seafood in Europe. This collaboration includes an agreement to collaborate on market research and develop consumer insights, assess regulatory requirements, and explore business and product opportunities that could accelerate and promote the introduction of cell-cultured seafood products throughout Europe. While our partnership is still in its early stages, we are both committed to providing consumers with safe, healthy, and sustainable seafood options. 
How does BlueNalu tackle consumer acceptance of cell-based seafood products?

 
Consumers are increasingly looking for products that are healthy for them and the planet without compromising on taste. BlueNalu has conducted quite a bit of consumer research in the U.S., and we have identified that our target market is people who love seafood! Seafood already enjoys a health halo, and when we share that our seafood will not contain antibiotics, mercury, microplastics, or other contaminants, consumers are drawn to these benefits. We've also interviewed quite a few chefs and food service operators who recognize that our product will provide consistent, 100% yield, year-round supply and eliminate the tremendous variability and unpredictability that exists in the seafood supply chain today. 
Both consumers and foodservice operators are excited to see seafood products that are healthy, humane, and sustainable. We have also received considerable interest abroad, through strategic partnerships, particularly in Asia where seafood consumption is the highest globally. 
Our cell-cultured seafood will provide a third option to complement wild-caught and farm-raised seafood, helping to alleviate stressors on wild fisheries and allow them to replenish. At the same time, we will be providing consumers with the same great taste and nutritional composition as conventional seafood, but without the toxins, antibiotics, and environmental pollutants. 
What are the short and long-term plans for BlueNalu?

 
We plan to introduce our initial cell-cultured seafood products in a test market as soon as feasible, pending the completion of our pilot production facility and regulatory review by the U.S. FDA.  Our new facility will be a Good Manufacturing Practices (GMP) certified food production plant that will be designed for limited commercial production of BlueNalu's various cell-cultured seafood products, enabling us to continually innovate and introduce new species, forms, and packaging options for our customers and consumers.    
We are initially developing high-value finfish products like bluefin tuna that also solve a sustainability challenge. At BlueNalu, we are specifically targeting species that are overfished, primarily imported, and difficult to farm-raise. It is our goal, as a result of this strategy, to reduce fishery pressure, displace the need for imports, create jobs, and enhance food security. After the pilot phase, we will expand manufacturing operations and introduce additional species and product forms to meet consumer demand. Upon the completion of our market testing, we hope to break ground on our first large-scale manufacturing facility as early as 2025. 
We are also preparing for regulatory review in other markets, and these efforts are being supported by our strategic partners. By collaborating with local companies in each market we intend to operate in, we are able to accelerate our market strategy and introduce products that meet local consumer demand. 
Where do you see the seafood alternative sector in 5 years?
I believe the cell-cultured market will rapidly evolve over the next 5-10 years. The consulting firm AT Kearny has projected that cell-cultured meats will represent 35% market share and plant-based meats will represent 25% of the market share by 2040 indicating that what we know today as conventional protein will become unconventional in less than two decades. 
At BlueNalu, it is our focus to work with foodservice operators to initiate small-scale market testing and then expand products, geographies, and market channels.  
My personal forecast is that 2030 will be the decade in which numerous large-scale, cell-cultured factories will be built around the globe, resulting in compounded annual growth in this whole category. Before then, you'll see small-scale factories and perhaps millions of pounds of volume in aggregate amongst all cell-cultured companies over the remainder of this decade, representing limited market share. But from 2030 on, I think you'll see rapid growth and, in our case, the ability to supplement the global supply chain gap as demand increases and conventional supply remains relatively flat. We're hopeful that cell-cultured seafood can really supplement the gap that's upon us. 
Having worked in the food industry for 35+ years and having co-founded BlueNalu, I believe the greatest market opportunity for cell-cultured protein products is within the seafood category. 
Today, seafood market pricing is based on supply, making it variable and unpredictable, as well as considerably costly in areas like quality, distribution , and logistics. Currently, food service operators pay for the parts of the fish that are not typically eaten, like heads, tails, skin , and bones. With BlueNalu cell-cultured seafood, we anticipate that our products will have 100% yield, will likely originate from much shorter distances with a very favorable environmental and logistics footprint, and can command a price premium based upon the many benefits that we will be able to offer.