QOA is a startup creating the chocolate of the future. Using precision fermentation, they have been able to recreate the flavor of milk chocolate without the main ingredient, cocoa. The siblings Max and Sara are both passionate about science and the planet. They realized that by creating chocolate without cocoa, they could alleviate some pressure off the current cocoa production supply chain. Additionally, their product could help reduce the current impact cocoa has on the environment and address ethical issues such as child labor.
Want to get to know them more? QOA will speak at Future Food-Tech London, a virtual event taking place on September 30 and October 1. Register to the event to hear from leaders in the foodtech industry and connect with your peers. Thanks to the code EA10 from Eatable Adventures you will get a 10% discount. Don't miss out!
Can you tell us a little about your background?
I am a mechanical engineer and did my PhD in material sciences. Then I worked for BMW in production, then I moved on as assistant to the CTO. I also built an open innovation initiative called BMW Startup Garage that enabled BMW to connect with startups and to adopt startup innovations for their core technologies and processes. In 2017, I left BMW and founded my own company called 27pilots. We helped big corporate clients, like Bosch Siemens, and had different verticals such as insurance, retail, food to adopt cutting-edge startup solutions. 
At the same time, Sara, my sister, a food chemist, was researching coffee and flavors for her Ph.D. Then she was researching how flavors are built up during the fermentation and roasting of coffee beans. She was researching to find out why coffee tastes better in a way, and how the process could be improved to reduce bitterness in coffee.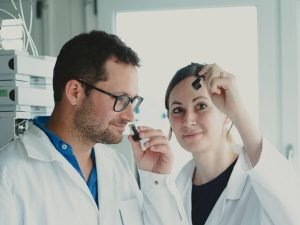 QOA founders Sara & Maximilian Marquart
How did you come up with the idea of creating chocolate without cocoa?
I read an interesting book called Never Out of Season by Rob Dunn describing that cacao is one of the threatened species on our planet. On average every person in Germany eats 7-8 kilograms of chocolate per year. In China, consumption is growing heavily as well. After all, we need 5 million tons of cocoa to satisfy the craving for chocolate every year. From this book I understood that cocoa is very threatened by climate change, eroding the soil and other factors.
I told Sara to transfer her knowledge of Maillard chemistry to cocoa. With the kind of technology she developed in her PhD thesis, we were able to replicate the aroma building and we found out that most of the tastes that you know in chocolate are basically processed aromas. They come from fermentation, from roasting, from a recipe formulation, how much milk is in there, how much sugar is in there. So we said that if it's all processed, aromas, and recipes, why don't we just leave out the cacao bean and try to mimic something that is like chocolate but without the cacao bean. And we actually did it. 
How does the taste of your product compare to traditional chocolate?
If you take a mainstream milk chocolate nowadays, I think we would maybe get 100%.
We've done a blind tasting with a peer group in the research institute here, and no one could taste the difference. We are not there yet for dark chocolate. There is a lot of complexity missing in QOA up to date. But actually, premium dark chocolate is not our target either.
Our target is to produce chocolate for the mass market, for applications like M&Ms, where you have the peanut in, and maybe a chocolate coat around it, or a Snickers bar or cookies with just the coating on top of it where chocolate is not the main ingredient. For those applications, if you don't taste the difference and if any way, it's just mass-market milk chocolate, I think we can easily substitute it. We recreated Snickers and Milky Way bars with our QOA and it worked quite well. That's where we are at the moment. What we're doing now is to further improve that.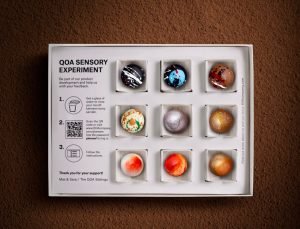 QOA Sensory Experiment Truffles
When and where will it be launched for the public?
Middle of next year. We're discussing several options there. In addition, we will open our open beta in the middle of October. From then, you will be able to apply for one of our test kits. You can pre-register now.
As for the final product, we need to wait for FDA approval, and then we will release it next year. 
What have been your biggest challenges so far? 
The huge challenge is actually to get chemists and chemists who are willing to work with a startup. We're really struggling to get good chemists. Most chemists we talked to preferred to go into the corporations because it seems to be more secure, but they neglect that we have a lot of funding and many industry contacts to grow QOA sustainably over the next few years. 
The second thing is laboratory space in Munich or in Germany. The real estate industry somehow just builds office space. We need to build things, we need to innovate, we need to go to the labs, and we need to craft something. So I need to convert everything to dedicated lab space and it's costly and time-consuming. 
Where do you envision QOA in the short, and long-term future?
Short term future is to have our first product out in the market. Also being perceived as an alternative that is more sustainable, 100% natural, not lab-grown, and healthier as well, because we can reduce sugar. I think if we reach that position, having an ethical and healthier substitute would be amazing.
Long-term, we want to say 'Hey, we change the world for the better, we change the supply chain of cocoa and chocolate for better.' I think by 2035 QOA will be a major ingredient in all mass-market chocolate products. That's kind of our mission. 
Take a look at our other interviews here.