Lately, algae have been taking center stage in the foodtech industry, revolutionizing the way people perceive sustainable and nutritious food sources. Algae, often associated with aquatic environments, and seaweed, a common sight along coastlines, have proven to be valuable and versatile resources in the quest for more eco-friendly, nutritious, and flavorful food options. The global foodtech sector has seen a growing interest in leveraging these wonders, driven by the need for sustainable food solutions and the rising demand for plant-based and environmentally friendly products. Algae and seaweed are rich in essential nutrients, low in environmental impact, and highly adaptable, making them ideal candidates for innovation.
To shed light on the different applications and transformative potential within the foodtech industry, we'll delve into the remarkable journeys of eight pioneering startups that are leading the way in harnessing algae as key ingredients for a brighter, greener, and more delectable food future.
Poseidona 🇪🇸 is a Spanish startup led by women, part of the 2023 Spain Foodtech cohort, with a mission to revolutionize the food industry by developing sustainable proteins sourced from algal waste and invasive biomass, revolutionizing the current production system and generating a positive impact on the marine ecosystem. They leverage these alternative proteins to create delicious and mouthwatering food products. Poseidona aims to contribute to a better world where ethics take precedence, and environmental preservation is paramount. Their dedication aligns with the healing and nurturing power of the ocean, striving to nourish a new era of conscious beings with innovative and sustainable food solutions.

FUL 🇳🇱 is a Dutch startup specializing in crafting sparkling spirulina water that's not only delicious but also exceptionally healthy. Their beverages feature the natural blue hue of FUL Spirulina and are a refreshing detox for both your body and the planet. These drinks are caffeine-free, low in sugar, low in calories, and completely vegan. With delightful hints of white peach, lemon, ginger, grapefruit, and cucumber, FUL's offerings are a blend of unique flavors that leave you feeling invigorated and rejuvenated. Their commitment to sustainability and health is central to their mission, making FUL a fantastic choice for eco-conscious consumers looking for a new, refreshing beverage experience.

Notpla 🇬🇧,  is a sustainable packaging startup dedicated to making conventional packaging disappear. Their innovative products, like Ooho, a revolutionary material made from seaweed and plants that biodegrades in weeks naturally, and other packaging solutions. Seaweed, one of nature's most renewable resources, serves as the primary ingredient in their quest to reduce plastic waste. Recognized for their efforts in environmental sustainability, Notpla has received prestigious awards, including the Earthshot Prize and the Tom Ford Plastic Innovation Prize. Notpla has established itself as a go-to supplier for catering and food service businesses, catering to a diverse audience seeking sustainable and innovative packaging solutions.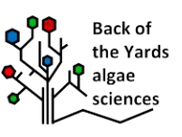 Back of the Yards Algae Sciences
Back of the Yards Algae Sciences, 🇺🇸 stands at the forefront of innovation, driven by the potential of algae. Their pioneering work spans diverse applications, including the development of sustainable, natural ingredients such as food colorants and flavors, plant-based meat protein powders, biostimulants for optimizing crop yield in vertical farming, and growth media for scaling up cell-based food production. Notably, they have harnessed spirulina to create algal heme, a game-changing component famously used by plant-based food tech leader Impossible Foods to replicate the "bleeding" effect in their animal-free beef patties. Additionally, they offer Spirulina extract for approved food and beverage colorants, along with versatile Spirulina powder, organic, vegan, halal, and kosher spirulina, which retains the superfood benefits while remaining odorless and tasteless. 
New Wave Foods 🇺🇸 poised to make a significant splash in the market with its product plant-based shrimp. The secret ingredient behind this innovative creation is algae. While the precise formulation of their shrimp substitute is yet to be fully disclosed, the company has revealed that it will be crafted from a combination of seaweed and non-GMO plant proteins, resulting in a product with a taste and texture that is described as "virtually indistinguishable" from traditional shrimp. New Wave Foods' plant-based shrimp offers a delectable and sustainable alternative, perfect for a variety of shrimp dishes, from sautéed to grilled, breaded to baked or fried. It promises to deliver an exceptional, plant-based seafood experience, composed of sustainably sourced seaweed extract and mung bean protein, all while being vegetarian and kosher-friendly. 
Sophie's BioNutrients 🇳🇱 is a Dutch startup working in the alternative protein industry, using microalgae to create sustainable plant-based products. They are the first foodtech company using microalgae and patent-pending technologies to develop 100% plant-based & sustainable alternative protein for the food industry. Their innovative approach leverages proprietary microalgae strains that can be grown in fermentation tanks, fed with food waste, and harvested in as little as three days. They have created the world's first Chlorella Ice Cream made from their Chlorella Protein Concentrate. Sophie's BioNutrients is at the forefront of the movement towards sustainable urban protein production, addressing pressing global food security and supply chain challenges.

Allmicroalgae 🇵🇹 is a Portuguese startup pioneering company dedicated to providing high-quality plant-based solutions, primarily focused on microalgae, to various industries, including Food & Beverage, Nutraceutical, Feed, Agricultural, and Cosmetics. They specialize in nutritionally sustainable plant-based ingredients and biomass. Allmicroalgae is one of the largest European producers of natural microalgae, in particular organic Chlorella vulgaris, owning a rich microalgae portfolio that includes too Nannochloropsis sp., organic Spirulina, Tetraselmis chui, Scenedesmus sp., Phaeodactylum tricornutum and more. 

Algama 🇫🇷 is a startup promoting sustainable food solutions by harnessing the nutritional power of algae. Their core focus is on selecting promising algae strains and transforming them into actionable ingredients, which are used to develop eco-friendly alternatives to animal-based products including plant-based eggs and meat. With an emphasis on innovation, Algama caters to changing consumer preferences and collaborates to craft innovative, flavorful, and health-conscious food products. They aspire to share a more positive vision for the food industry, facilitate industrial-scale production of plant-based proteins, and lead food innovations in high-growth markets, all while championing algae as a sustainable and nutritional powerhouse.
In conclusion,  these startups collectively represent the transformative potential, and superpowers of algae, offering a range of innovative and sustainable products. From proteins and beverages to packaging and agricultural solutions, we move towards a future marked by ethical choices and ecological responsibility, algae is poised to play a pivotal role in nourishing a new era of conscious consumers and revolutionizing the way we experience food. These startups are at the vanguard of this transformative journey, and the potential for further growth and innovation in this space is boundless.