Our partners from Food Matters invited Eatable Adventures´ Ecosystem Development Manager to participate in a podcast on tech innovation in the supply chain. Paula Álvarez Ameijeiras was joined by other experts in the field such as Catherine Tubb; Senior Research Analyst at RethinkX, Dr David Christian Rose, Elizabeth Creak; Associate Professor of Agricultural Innovation and Extension at the University of Reading and Raphaëlle O'Connor; founder of iNewtrition.
Raphaelle introduced the supply chain as something that involves all the food production phases from raw materials to sourcing qualification, all the way to launching and commercializing a product. 
"The Supply chain is everything"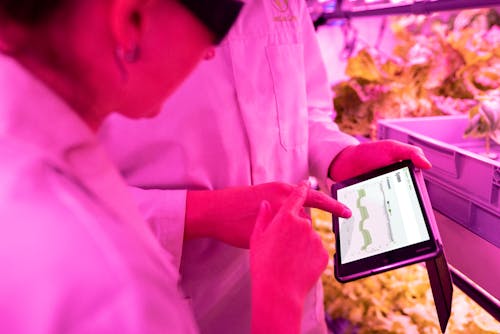 Disrupting the food chain
Catherine explained that its not about looking for what is broken in the supply chain, but more about observing what technologies are helping us to decrease costs across the production process. Disruption does not only imply something that is better, disruption normally comes from technology rather than a specific need. 
Paula remarked that our food system is one of the latest systems to be digitized and rightly so, as we "need to become digital". All the innovations that we are seeing is working towards digitalizing the system and investors and entrepreneurs alike are realizing how big of a potential it offers. She believes that all the innovations need to be more focused on the origin of the product instead of only implemented at the end of the chain.
Dr Rose agreed and explained that farmers have always been more innovative than people think, despite agriculture being a more traditional sector. He said "Change can be good if the promises of innovation are delivered". He went on to defend that there is no point being seduced by high-tech in food as it takes a long time to be developed and deliver improvements.
Catherine added that "technology can take time until it doesn't" and suggested farmers make incremental changes. Disruption offers a number of advantages to the food supply chain and food production system in terms of higher production, increased efficiency, more resources and added health benefits.
More innovation, more benefits

Paula believes that everyone benefits from increased innovation but that to ensure farmers actually adopt these technologies, its important they know exactly how they will profit from them. 
Technology such as blockchain allows farmers to gather all their data together quickly and efficiently, leveraging predictions in production levels and surpassing challenges like climate change. This pandemic has uncovered a fraught food system that begs for change. "Make the world more sustainable with better food production"
Dr Rose believes that blockchain has big potential in terms of traceability and food tracking for consumers. But he believes that the main benefits will go to big technology companies rather than for the primary producer. 
Catherine added that it is important to prepare farmers and consumers for this change, so they can all benefit from it. 
Breaking the barriers to innovation
Catherine thinks that explaining such innovative technologies such as genetic engineering may be difficult for consumers to grasp, but will be better understood if you tell them what it means for them rather than what it is.
Dr Rose thinks despite the economic benefits being important for farmers, its not the only driver. Improving farmers´ skills in digital knowledge would help as well as involving them in the design of these technologies and explaining which issues they would help solve. For example, robots that could help with the current labour shortage would be a good solution, one that farmers would definitely be on board with.
Favorite disruptive solutions

Catherine believes fermentation should be top of the list, as she explained it enables you to create any protein you want. For example, there are now new innovations in human breast milk protein development from fermentation. Anything is possible! She believes there are huge opportunities from different proteins that we have never seen before.
For Raphaelle shared kitchen and supply technologies are most important. She believes technology should allow collaboration and shared capabilities, which is what our food system currently needs.
For Paula, indoor proximity farming has massive potential. We are seeing big interest from investors in this space, and countries like Singapore are already adopting these technologies.
Dr Rose believes low touch innovation should be explored deeper. There are innovations that farmers have already implemented but don't use, such as scales for beef producers that allow them to measure the nutritional values of cattle and know when products are ready to be commercialized.

Want to know what else our experts had to say? Listen to the full podcast here.