We recently had the pleasure of interviewing Jessica Schwabach, co-founder of Sundial Foods together with Siwen Deng. The startup was one of the winners from the Foodhack Demo Day in early October 2021. From 177 applicants, 40 startups were chosen to participate and 3 won. Sundial Foods develops plant-based meats, but what sets them apart is that they include the skin and bone in their chicken wings, elements that meat-eaters know and love.
The Foodhack Summit event that was originally happening in 2021 was rescheduled to May 12 & 13 of 2022. It will gather a world-class line-up of speakers to address major shifts across the food industry and highlight new ways of producing, harvesting, processing, and delivering better food at scale.
Can you give us an overview of what Sundial Foods does and what makes it unique?
We've created a new production technology for whole cuts of plant-based meat. 
Most companies use high moisture extrusion. This process takes g protein isolate, runs it through an extruder under heat and shear, and generates the fibrous base for creating a product. And once you have this fibrous protein mass, you can add fat and flavor, or do any kind of post-processing and assembly to create something meatlike. Theoretically, you can also make whole cuts this way. The problem with this process is that the extrusion is just the first step. There's so much that needs to happen after if you want to generate truly complex products. What Siwen and I wanted to do was find a process that's really aiming specifically at the generation of structured whole cuts, not just at this fibrous meat texture. What we did is we went back to the basics and we were really just looking at plants and saying, what if we just take two by two matrices of what we call plants of interest, things that we could enrich for fiber, protein, and starch, and combine them and see how they interact with each other and try to understand what can actually generate this kind of fiber besides protein isolate. This was kind of the base of our idea for meat production. What we've added on top of that is being able to combine this individual fiber creation with also creating different muscle bundles and layers.
At the end of the day when you take a bite of the meat, it has fibers and also different layers created in one step. We can create different whole cuts of meat because when you bite into it, it gives you that heterogeneity of textures as if it's made out of the real animal muscle. We've been working on that since the summer of 2019 and this year we're in the middle of building the industrial line for that process. It should be up and running early next year. 
The other main component of what we do is plant-based skin. Actually, the idea for the plant-based skin comes from a class we took at UC Berkeley where our challenge was solving the problem of dryness in plant-based meats. And what Siwen and I found is that if you look at a plant-based meat product you start with enough moisture and you already have enough fat inside your product. But when a consumer is interacting with plant-based meat, it dries out more quickly than animal meat, because these just leave the product very quickly during cooking. So we thought that the simplest decision would just be to add a physical barrier, almost like a bag. And we created this film that we wrapped around plant-based meat, and we showed that if we had it without the skin plus with the skin that with the skin it would be able to retain more moisture inside, and this would improve the eating experience. What we didn't really expect was that the plant-based skin itself is something that consumers really like, because not only does it improve the moisture of the inside of the meat, but it gives them another layer of texture that makes it more fun to eat the product.
So, what we've got now is a chicken wing and that's where we display the three main aspects: the meat texture, the muscle bundles, and also the skin. When the consumer bites into it — we've done some texture analysis profiles to show that there's this complex experience. You have the crispiness of the skin, assuming that you had fried it or something like that. And then inside you have these different muscle bundles, which have a fibrous texture, but also they have a heterogeneity to them because they're separated. So that's the idea behind Sundial products.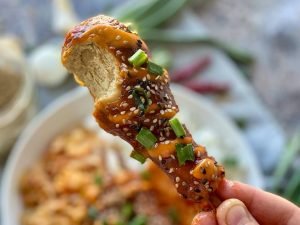 Image: Sundial Foods
Congratulations on being one of the winners of the FoodHack Demo Day! What are the next steps for the startup?
Thank you. Sundial is based in California, but we've just moved in mid-September over to Rutgers University in New Jersey. They've got this food innovation center where they have done the initial upscale for a lot of different startups. The team is a bunch of academics who are super experienced. They used to have Impossible Burger here, this is where they produced for their initial commercial launch, and we're renting a room that has a little Impossible sign on the wall, which we're very excited about. We hope it's good luck. 
We are trying to build our early industrial line out of this building that will be capable of serving Sundial for hopefully the next year and a half. After that, we'll be looking to move to a larger facility. But the goal of all of that is to hopefully launch the product early next year in California.
What are/were your main challenges and how did you overcome them?
The biggest challenge for us has been the upscale of the novel process. Understanding the amount of mechanical engineering that is needed to upscale this process was something that was really difficult, and took a lot of hands-on learning for us.
When we were in the Nestlé accelerator in Switzerland we had the unique opportunity because of COVID to actually be the ones going down into their pilot plant facility and moving the equipment around and running tests ourselves. This way we were able to see what it was like to build at least that garage line from the ground up and now we're trying to repeat that experience here. One of the challenges we've run into with the scale-up has been technical, we actually spent almost all of this year focusing on trying to figure those out. And we're pretty confident now in the viability of the line. Currently, our biggest challenge is COVID-related supply chain issues, being able to get things like stainless steel parts from around the world, and being able to ship equipment. So this is maybe causing some timeline issues, but our team is super scrappy so we're all working on it. 
Where do you see Sundial Foods in the short and long-term future?
Right now the focus is on launching these plant-based chicken wings in California. So everything we do is about this chicken wing line, and getting those out into our first tiny market, about a dozen restaurants next March in the bay area. 
But really the long-term dream of Sundial is to not only be launched in the US with chicken wings but also to be able to sell these kinds of whole cuts and use our technology more as a platform for generating different kinds all over the world. Starting with chicken for the next couple of years, because that's the formula we understand well. But we really think, and I've done some early prototypes that also suggest it, that this process that we're developing can be applied for a huge variety of whole cuts. So if it's not Sundial that's able to make them, things like seafood or other cuts of poultry, we can help other startups use this for whole cuts.
Where do you see the alternative protein sector in 5 years?
I think that it's already on its way to becoming very mainstream. I think that there's a first wave of plant-based products that have helped consumers start to understand. Originally there were the Tofurkies and the Morning Stars which were basically a very vegetarian thing and a compromise. To meat eaters, they definitely didn't taste as good as meat. And then companies like Beyond and Impossible have really dramatically changed consumer perception and made them think that in some cases, eating plant-based alternatives is more fun or more exciting than eating meat. And meat eaters and flexitarians will actively seek them out for that experience for a variety of reasons.
But I think as we progress, the people behind these companies are starting to realize, what we think at Sundial and a lot of other founders think, that if we're saying that we're creating plant-based meat products in order to replace meat in people's diets, there's no way we can do that believably unless they're as nutritious for a person as animal meat. So the real focus I think, in the future is going to be on nutrition and making sure that these will be genuine replacements. We want meat that people can feel good about, that they could eat every day and still get the same level of value. So companies like Beyond an Impossible that have launched these very popular products are more like a McDonald's type thing because they're a really fun experience that people will enjoy. But hopefully, there'll be another wave of companies behind that that are more "straight from the butcher" where it's much more able to replace the experience of meat for people.
More interviews such as this one here.