Last month the Embassy of Spain and the Spanish-Singaporean Chamber of Commerce in Singapore launched a series of dialogues on the different topics of interest for both countries. In their second offering, they delved into the agri food tech industry.

With an increasing population growth, the environment and the covid19 crisis threatening local and global food supply chains, it's more important than ever to share knowledge, insights and innovation to offer solutions to new challenges.

Spain has developed a strong R&D focus in the agriculture and food industry, as it aims to meet new consumer needs such as alternative food, resilience and traceability. Singapore also faces relevant challenges as it aims to strengthen its food security and supply chain by setting a "30 by 30" national goal to produce 30% of their own food by 2030.

In the panel, they were joined by important agri food players, such as Ms Yee Ting Wong from A*STAR and Mr Jorge Saludes from AINIA. The moderator, Mr Carlos Bonet, from AM FRESH, guided the conversation that also included presentations by the young Spanish startup EKONOKE and Singaporean-based DIMUTO.
Singapore & Spain's agri food space
We are currently facing major food security challenges and as we increasingly seek more ways to offer answers to them Singapore is making the massive effort of developing smart solutions. The main drivers for Agriculture 4.0, a term used to describe the next big trends facing the industry, including greater focus on precision agriculture, the internet of things (IoT) and the use of big data, includes sustainability issues, pandemics, increasing food consumption and climate change. 

In the case of Spain, the country has established itself as a worthy supplier of agrifood products as it continues to maintain supply chain exports to the rest of the world during the crisis. A collaboration between the two countries could be a door opener of opportunities.
Carlos Bonet; Director and General Manager of AM Fresh´s Asia Office agrees and says that "cooperation will be fundamental" and that "Spain will be an ideal solution provider for Singapore on so many levels".
Singapore is currently importing 90% of its agriculture products and this space makes up 15% of Spain's GDP as it has established itself as one the biggest suppliers of fruit and vegetables in Europe.
A* Star´s Dr Yee Ting Wong talked about the increasing importance consumers are giving to the complete value chain and presented the "30 to 30" Singapore plan including; 
Sustainable Urban Food Production

Future Foods: Advanced Biotech-based Protein Production

Food Safety Science & Innovation
This program offers clear objectives with a focus on increasing food security, developing the economy and supplying safer food. To reach these objectives they have been looking at agritech technologies involving pre-production as well as production & post harvest like precision farming, farming automation, robotics, sensors & detection systems, AI intelligence for logistics and more. They are also investing in other important areas such as aquaculture and alternative proteins with sensor detections, robotics and automation and AI-enabled tech at the forefront of innovations.

New agrifood opportunities for Singapore & Spain
In the last few months post-covid19 has uncovered new opportunities for collaboration to building better food resilience, through increasing local production, new storage solutions, technology for smaller farm holders, supply chain management, waste reduction, consumer insights digitalization and sustainable resourcing.

DIMUTO, a Singaporean startup that provides end-to-end supply chain visibility to global trades specifically to the perishables industry (fruits & vegetables) through technologies such as blockchain, Internet of Things (IoT) and Artificial Intelligence (AI) is offering solutions to the current challenge of disconnection in the global food trade. According to the startup global food trade is highly fragmented and its implications causes issues such as global food waste (1.6 billion tonnes to be precise), lack of financial access, trade disputes, lack of market breakthrough and lack of consumer engagement and transparency.
The answer? Digitalization. DIMUTO allows for the collection of data to increase control using IoT, Blockchain and Cloud Computing to organize information as well as AI to generate actionable insights and offer total visibility from farm to consumer. Increased digitalization provides a number of advantages for the industry along the lines of increased product awareness for consumers, reduced wastage at logistics levels and expanded market reach for farms.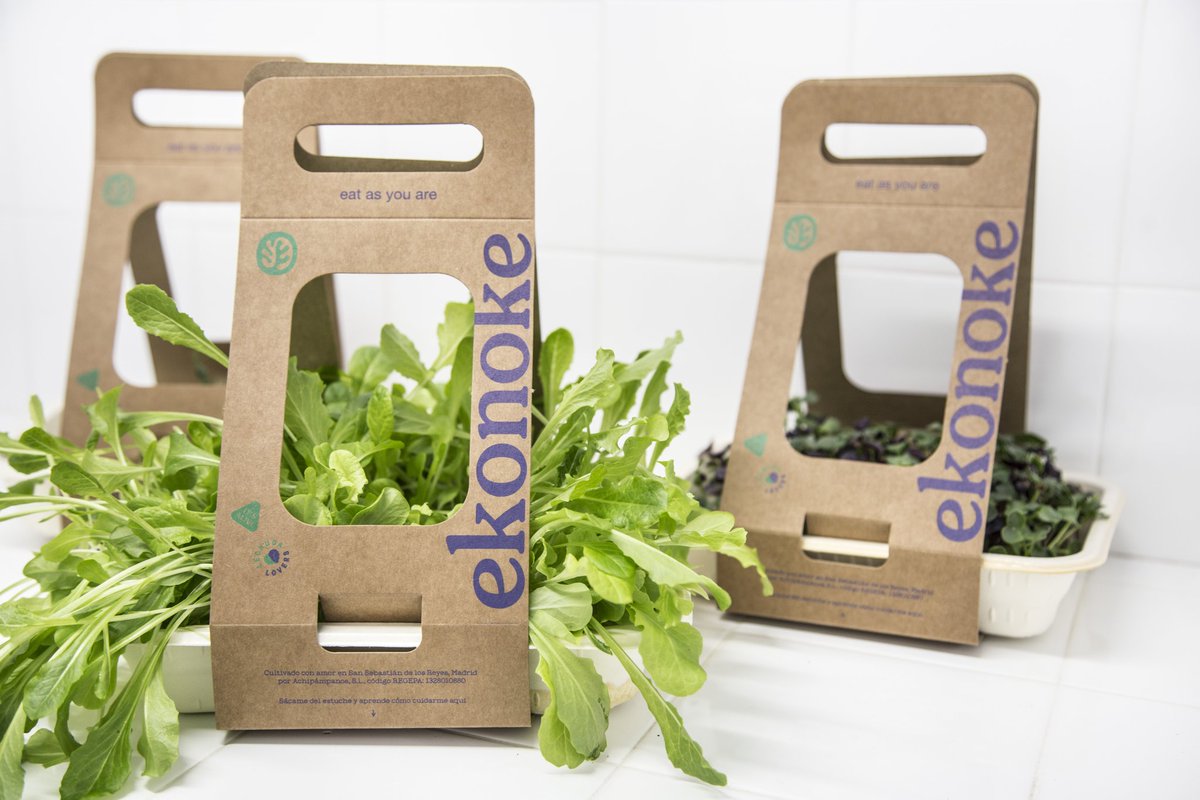 Spanish-based Ekonoke is a consumer-centric and sustainable startup offering "Fresh greens, grown locally, everywhere". They offer tech-controlled 3D growing with high production density,  their own circular economy nutrient solution and more efficient space and water use. Their main product is a leafy green mini-garden which offers a year round availability of fresh greens. The best part? It comes with a zero-waste approach and compostable packaging. This sustainable offering just happens to be right along the lines of what Singapore is looking for, to help decrease consumers climate change worries and offer "future of food" solutions.

Missed this interesting discussion? Don't worry, you can watch the full video here.