With over 1,000,000 million subscribers since 2014 Veganuary has inspired and aroused interest for a plant-based led lifestyle in people across 192 countries and beyond. So, the big question is; did you take the monthly pledge this 2021? In our latest post we take a look at those worthy veggie driven startups making change across the food industry, for the environment, health and the animal kingdom.
The new plant-based egg pioneer: Peggs
The plant-based egg space is rapidly expanding, with the category growing 228% in the past two years. On the back of fellow-vegan egg pioneer Eat JUST, California-based Peggs is one of the more recent companies to join this space, and the company has launched a Kickstarter campaign for its plant-based egg.
Want to know more? The "Peggs" eggs comes in powder form, and can be used to make classic egg dishes like scrambled egg or a classic omelet, and can also be used for baking. The main ingredients in Peggs are chickpea flour, potato, and flax.
Chickpea is a promising ingredient in the plant-based space due to its versatility and protein content. Israel-based company InnovoPro raised $15 million in funding last year for its chickpea-based protein powder for B2B use.
Talking about plant-based eggs..
  Making history: Eat Just.
Plant-based pioneer Eat Just may have conquered the vegan egg space, but it recently announced its plans to expand its retail line with JUST Egg Sous Vide bites, which the company crafted in partnership with sous vide food manufacturer Cuisine Solutions.
The bites will arrive in the frozen food section of grocery stores come March with customers able to choose from four different varieties each based on a different geographical region and flavored with plants from there, examples include America (potato, dill, chives, red and black pepper), India (curry, broccoli, cauliflower, coconut milk, lemongrass) and Japan (mushroom, yams, togarashi, soy, tamari). The other major ingredient is of course their staple protein: mung bean, which is used in their egg products.
With the brand´s continuing development of plant-based products, they also made history in the cell-based world as at the beginning of December they gained the world's first-ever regulatory approval to sell cultured meat in Singapore.
Powering the rise of pea protein one carton at a time: Sproud
Swedish milk producers Sproud are tapping into the health benefits of pea protein and recently announced that it had raised £4.8 million for the production of its pea protein milk with the funding being led by UK-based early growth capital investor VGC Partners and going towards the plant-based brand´s global expansion.
Pea protein has become a widely used protein in the world of plant-based often found in meat alternatives (Beyond Meat) and other dairy alternatives like creamers and ice cream. In the US, Ripple Foods also produces pea protein-based milk and Good Karma makes a variety of flax and pea protein products, including milk and dips.
Solving the world´s overfishing problem: Blue Nalu.
US-based BlueNalu is the startup crafting technology to make cell-based seafood recently announcing that that it had raised $60 million earlier last month, with the fresh funding going towards the development of a 40,000 square foot pilot production facility.
The company creates different seafood species through the extraction of fish cells and crustaceans and growing them in large bioreactors. Their current plans are to launch their first products of cell-based mahi-mahi and bluefin tuna later this year. Due to global concerns of overfishing and oceanic pollution cell-based seafood may be the key to offering a more sustainable alternative. Startups like Avant Meat offers consumers in China and Hong Kong  cell-based fish maw and sea cucumber while Singapore´s Shiok Meats is working to produce cell-based lobster and shrimp.
And they arent the only ones powering the cell-based food revolution..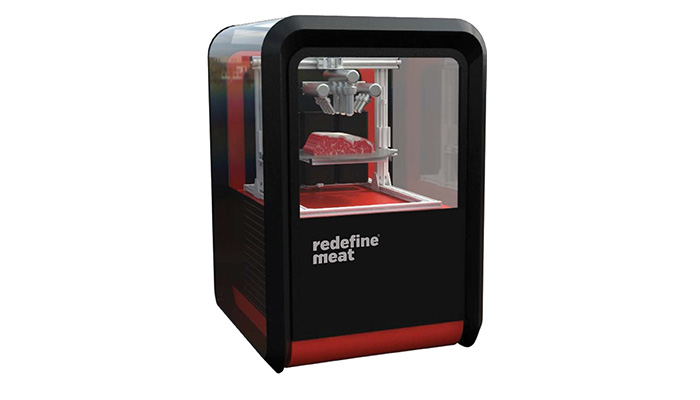 ️ Crafting a new type of meat: Redefine Meat
Redefine Meat are the producers of revolutionary 3D-printed meat made from plant ingredients and have just been given some good news this week as they announced this week a new collaboration with Israeli meat distributor Best Meister, with the collaborative aim for the startup to distribute its 3D-printed meat products throughout Israel. As part of their partnership the two companies organized a food truck tasting in a small town outside of Tel-Aviv in order for consumers to recognise their initiative and allow the startup to gain feedback on the alt protein product.
Redefine Meat uses three different components for its meats, called Alt-Muscle, Alt-Blood and Alt-Fat with the team leveraging these three ingredients to create a realistic meat prototype that shares the same texture of "real" muscle and tissue. Israel is fast becoming the 3D printing hub, as alongside Redefine Meat the region hosts a number of other pioneering startups including SavorEats who went public last year on the Tel Aviv Stock Exchange.
Following the e-commerce wave: Outstanding Foods 
Outstanding Foods is the company behind PigOut Pigless Pork Rinds and TakeOut Meal in-a-bag puff snacks which are Non-GMO, gluten-free and certified plant-based and can be eaten as a meal. The brand recently announced it has raised $10 million in Series A funding with the aim to expand its retail footprint and D2C efforts.
CPG´s direct-to-consumer brands certainly saw a stellar year as covid wreaked havoc on the retail space, with plant-based companies such as Impossible Foods and Beyond Meat taking their products online. Outstanding was also part of the e-commerce boom, opening a new revenue channel and offering lockdown customers a tasty snack delivered right to their door.