The COVID-19 crisis has created unforeseeable problems for food and agriculture startups with foodservice and retail channels disappearing almost overnight, manufacturing and food production plants shutting down and venture funding opportunities falling through one by one. In this fast-changing environment, startups are leveraging their innovative mindsets and offering solutions to new challenges we face in a now vulnerable food system.
Agriculture 4.0 is a term used for the next big trends facing the industry, including greater focus on precision agriculture, IoT and the use of big data to drive greater business efficiencies. In 2018, the World Government Summit published their report Agriculture 4.0 – The Future Of Farming Technology where they addressed the four main developments placing pressure on agriculture in the near future: Demographics, Scarcity of natural resources, Climate change, and Food waste.

In our previous post we delved into the challenges that the pandemic was posing for agtech and today we look at the emerging trends leading the industry & the startups pioneering the change.


  Vertical farming


(Image courtesy of Rise Gardens)

In terms of agtech sectors, vertical farming is one of the categories that has seen some of the most activity, and which investors and entrepreneurs are currently most focused on, as evidenced by the following examples:
2017: Softbank invests $200 million in startup Plenty

2017: IKEA invests $40 million in AeroFarms

2018: Google Ventures invests $90 million in Bowery Farming

2019: Ocado, a British online grocery retailer, invests over $20 million to grow leafy greens and herbs next to its distribution centers through indoor farming
So what does 2020 have in store? Chicago-based Rise Gardens, an indoor hydroponic gardening system, secured $2.6 million in seed funding back in May for its hardware and software indoor planting system where customers receive a home garden kit. Similarly, Infarm closed a $100 million Series B this month for its vertical farming tech targeted towards restaurants and retail. Plenty has also raised millions for its indoor farming technology, as well as a handful of other startups with their eyes on vertical farming including AeroFarms, Bowery Farming, Freight Farms and Spanish startup Ekonoke a consumer centric and sustainable startup which offers high-tech 3D growing with high production density, offering their own circular economy nutrient solution and more efficient space and water use.

Vertical farming is expected to become an enhanced substitute of traditional farming, as it produces 70% more crops and uses almost 90% less water compared to traditional farming.


Marketplace


(Image courtesy of Farmstead)

As companies jump on the d2c ecommerce bandwagon, its no different for the agtech space. According to Agfunders 2020 farmtech report one emerging space is Farm-to-Consumer eGrocery; digital platforms that allow farmers to sell their produce direct to consumers. With people confined to their homes over the past few months, demand for local food produce spiked as increasingly more consumers seeked to order food online rather than visit the grocery store. Before the crisis, this space only represented a minor portion of farmtech – securing only $202 million in 2019. With farmers now pivoting their business models online, we could see this increase in the coming months. According to data from Salsify 61.5% of consumers are looking to buy food items online during the outbreak with Instacart downloads increasing by 218%.
Consumer demand for raw food products and fresh produce such as vegetables, meat, and seafood has grown by 300% since the Covid-19 outbreak. US-based online grocer, Farmstead saw its delivery volume increase by more than 30% within the first week of March. CEO Pradeep Elankumaran reported that the company were looking at thousands of new customers on their services waiting list.

"Every day we're servicing some number of new customers that have showed up in the last few weeks,"


Food waste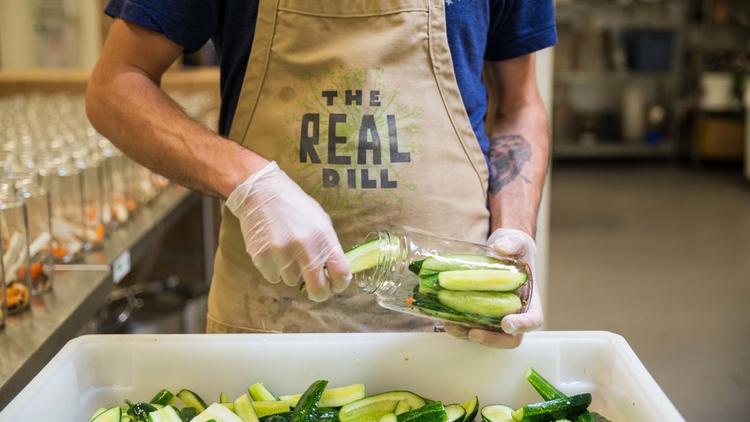 (Image courtesy of Food Maven)
Food waste has been amplified during the covid19 crisis as the food service industry saw establishments closing their doors one by one, including restaurants, universities and offices, leaving farmers without buyers and tonnes of produce left to waste, before it even left the farm. As a handful of farmers tried to redirect their food to grocery stores and supermarkets, it was harder than they imagined.

US-based Food Maven offers a new way to source food with a sustainability-driven mission to sell and deliver high-quality local imperfect and oversupplied foods to restaurants and other establishments at a discount. With foodservice demand dropping, they had to rethink their whole strategy. To help prevent spikes in food waste they launched an inventory to consumers for pickup and delivery to help stabilize supply and demand through their online marketplace. And it worked! With over 500 people signing up in the first week, according to their COO Ben Deda.

"The immediate impact of Covid-19 was a significant reduction of our hospitality and restaurant business," he told Agfunder news. "At the same time, we saw a big need in our communities for home grocery delivery because of shortages in the stores and individuals' fears that they would not be able to get sufficient food in their home."



Robotics & Automation


(Image courtesy of Plantix)
Berlin-based startup Plantix leverages AI to identify plant diseases, pests, and nutrient deficiencies. The only thing the farmer needs to do is click an image of the crop with the app installed on the smartphone and the software identifies the problem. Plantix then offers recommendations to find the right product, which helps fight the disease. They are on a mission to stop the widespread use of unsuitable pesticides and offer an affordable and quality solution to a somewhat saturated market.
Automation technologies have been around for some time, with their deployment at various levels like weeding robots or the industrialized robotic environment. Now, the trigger has come in the form of COVID-19 with labor shortages and a growing population, theres an urgency to deploy these more efficient technologies at a faster rate.
By minimizing employee presence across the production line, companies can minimize contamination while also reducing costs. Bradley Bogolea, CEO of Simbe Robotics, a startup that builds automation solutions for the retail industry, says; "As the dust starts to settle, I think more retailers will wake up to the need of having greater automation across their business."
Milan Sheth, Executive Vice President – India, Middle East, and Africa East region of Automation Anywhere, a robotic process automation unicorn, agrees; "The demand for automation technology will certainly go up." According to Sheth, companies and industries are relying increasingly more on automation to ensure operations continuity, faster return on investment, and the ability to generate revenue especially during these times of crisis.

Want to know more? In our next webinar with Eatable Adventures we will delve into the main drivers of change in agtech and the startups leading it, including the keys of investing in agtech. We'll be joined by industry experts Anne Greven, Global Head F&A Startup Innovation at Rabobank, John Friedman, Director of AgFunder Asia & our very own José Luis Cabañero, CEO of Eatable Adventures. Secure your place now & sign up here.